DO YOU HAVE A GROUP INTERESTED IN TOURING CUBA BY MOTORCYCLE?


–


WHETHER YOU'RE A BUNCH OF PALS, A MOTORCYCLE CLUB, OR A TOUR COMPANY, ACCLAIMED MOTO-JOURNALIST & CUBA EXPERT

CHRISTOPHER P. BAKER

CAN ARRANGE AND LEAD A U.S. LEGAL MOTORCYCLING ADVENTURE IN "SUPPORT OF THE CUBAN PEOPLE," CUSTOMIZED FOR YOUR GROUP
"Christopher… I gave the tour a 99 on a 100 scale as I can't imagine it gets much better than we experienced in Cuba. You did everything well and made sure that everyone in the group had a very memorable trip."




BOB HENIG, BOB'S BMW of MAINE

 
"With you, it became an unforgettable trip, Christopher. We hope to repeat it as soon as possible with new lucky travelers."




TAYLAN DEMIRTAS, BMW RIDER ACADEMY of TURKEY

 
Despite President Trump's restrictions on travel to Cuba effective September 24, 2020, and still in effect, every U.S. citizen can still legally travel to Cuba, pre-approved and at any time, under the "support for the Cuban people" license. This program is designed in accordance with U.S. regulations intended to maximize "support for the Cuban people" through stays at private B&Bs, meals at private restaurants, and interactions with independent artists, private tobacco farmers, owners of classic convertible taxis, etc.
Cuba has a low incidence of Covid infections. Nonetheless, the same CDC recommendations and regulations are in effect islandwide. As importantly, Cuba has four Covid vaccines in late-stage testing and expects to begin vaccinations by April, and to be able to vaccination the entire population by November 2021
Whether you're a bunch of pals, a motorcycle club, or a tour company, Chris can customize the perfect motorcycle tour of Cuba to your desire. In 1996 he toured Cuba end-to-end for three months on his own BMW R100GS, and in 2012 pioneered group motorcycle tours in Cuba for U.S. citizens. He has since led more than a dozen motorcycle tours of the island for entities from Edelweiss Bike Travel and MotoDiscovery to Bob's BMW of Maine and the BMW Rider Academy of Turkey.
The author of six travel guidebooks to Cuba, Chris knows the island like the back of his hand, and can prepare a custom itinerary that offers a complete Cuban experience, from sulty Havana and the tobacco fields of Viñales and UNESCO World Heritage Site colonial cities to the beaches of Varadero, and even the Bay of Pigs. Itineraries of any length can be arranged. Seven or eight days is a recommended minimum for a highlights tour, while 14 days would be required to tour the entire island.
Plus, you get a choice of bike fleets, currently either BMW F700GSs or Harley-Davidsons.
Our days will be full of fun meetings with Cubans from all walks of life… such as artists, tobacco farmers, and above all Cuba's resourceful and indefatigable harlistas (owners of pre-revolutionary Harley-Davidsons) and other motorcycle enthusiasts.
BELOW: Listen to my interview with Wes Fleming at the BMW Motorcycle Owners Association International Rally in 2018 / begins at minute 8:00 
(sorry for the background noise from the exhibition hall)
CHOICE OF BMW F700GS OR HARLEY-DAVIDSONS
–
YOUR TOUR WILL BE ARRANGED THROUGH, and YOUR GROUP WILL CONTRACT WITH, PROFIL CUBA-REISEN OR LA PODEROSA TOURS
TOUR LEADER
CHRISTOPHER P. BAKER:
It's true to say… no-one knows Cuba as well as Christopher, the Lowell Thomas Award 2008 'Travel Journalist of the Year' and the author of six travel guidebooks about Cuba. National Geographic acclaimed him "one of the world's leading authorities on Cuba travel and culture." In 1996, Chris shipped his BMW R100GS PD to Cuba and made a three-month, 7,000-mile journey as a licensed journalist, resulting in publication of his Moon Cuba guidebook and his award-winning travelogue Mi Moto Fidel: Motorcycling Through Castro's Cuba. His other books include Harley-Davidson Engines & Evolution. In January 2013, Christopher led the first licensed U.S. motorcycle group tour of Cuba end-to-end since the 1959 Revolution. He has since led numerous motorcycle tours in Cuba on behalf of MotoDiscovery, Edelweiss Bike Travel, Bob's BMW of Maine, and the BMW Riding Academy of Turkey, as well as almost one hundred tours to Cuba on behalf of National Geographic Expeditions and other tour companies. Chris brings a profound knowledge of Cuba, providing unparalleled context for your travel experience.
ROAD GUIDES
LUIS ENRIQUE GONZÁLEZ (PROFIL CUBA-REISEN)
Luis Enrique has more experience leading group motorcycle tours in Cuba than any other Cuban motorcycle enthusiast and road guide. Between 2013-16 he worked alongside Chris to lead the very first motorcycle tours in Cuba for U.S. citizens using BMW 1200GSs, F700s, and a medley of Harley-Davidsons. Since 2017, he has acted as lead guide for Profil-Reisen and has led scores of tours throughout Cuba end-to-end. An English-speaker, he's a natural raconteur and all-around "colorful character" with a Rolodex of contacts throughout Cuba (his personal history includes as a mariner and, in the 1980s, as a Lieutenant in Cuba's Fuerzas Armadas Revolucionarias in charge of an anti-aircraft battery in Angola). Luis is also responsible for maintaining Profil-Reisen's fleet of F700s in Cuba. A superb mechanic, Luis exemplifies Cubans' resourcefulness, ingenuity and indefatigable good humor. When not leading tours, Luis loves tinkering with his collection of pre-revolutionary Harley-Davidsons, a miscellany of other antique motos, plus his 1948 Buick.
ANIVAR HAYES (EDELWEISS BIKE TRAVEL)
Anivar Hayes and Chris have led several tours of Cuba together on behalf of the BMW Rider Academy of Cuba and Edelweiss Bike Travel — the world's largest bike touring company. Anivar is responsible for maintaining a Cuban fleet of BMWs F700s and 1200GSs, plus various Harley-Davidsons, owned by Austria's Edelweiss Bike Travel. A harlista (Cuba's proud owners of pre-revolutionary Harley-Davidsons), Anivar is an exceptional guide with an intimate knowledge of virtually every road in Cuba. Like Luis and other fellow harlistas, he's also an astoundingly gifted and creative mechanic, capable of at diagnosing and fixing virtually any mechanical problem. Anivar has led dozens of group motorcycle tours around Cuba and is dedicated to guests' welfare. His calm, amenable personality combines with professional training at the Edelweiss Tourguide Academy, in Austria. You could not be in more capable hands! NOTE: CURRENTLY, EDELWEISS BIKE TRAVEL DOES NOT HAVE A FLEET OF BIKES IN CUBA! 
ERNESTO GUEVARA (LA PODEROSA TOURS)
Owner and lead guide for La Poderosa Tours, Cuba's only "indigenous" motorcycle tour company, Ernesto has motorcycles in his blood. His father, the revolutionary hero "Che" Guevara, famously rode his Norton–nicknamed 'La Poderosa' (the powerful one)–through South America, and Ernesto has had a fascination with Harley-Davidsons and mechanics since he was a child. A true member of Cuba's harlista community, he is down-to-earth, affable and fun-loving and, obviously, a trove of fascinating stories, including of his university studies in Moscow, and his time serving with the Cuban military in Angola during their independence war (he also helps run the Che Guevara Study Center, in Havana; his father was killed while Ernesto was still an infant). Trained as a lawyer and now in his late '50s, Ernesto has decades of experience riding his 1948 Harley-Davidson Panhead throughout Cuba, and leading foreign groups on his fleet of modern HD models.
.
.
If any of the above are unavailable, we will work with another trusted and experienced Cuba road guide.
THE BIKES:


–
OPTION 1: BWM F700GS
BMW F700GSs exclusively. Each will be fitted with twin side panniers. Either with or without a support van. These tours will be fulfilled by Profil-Cuba Reisen (Germany).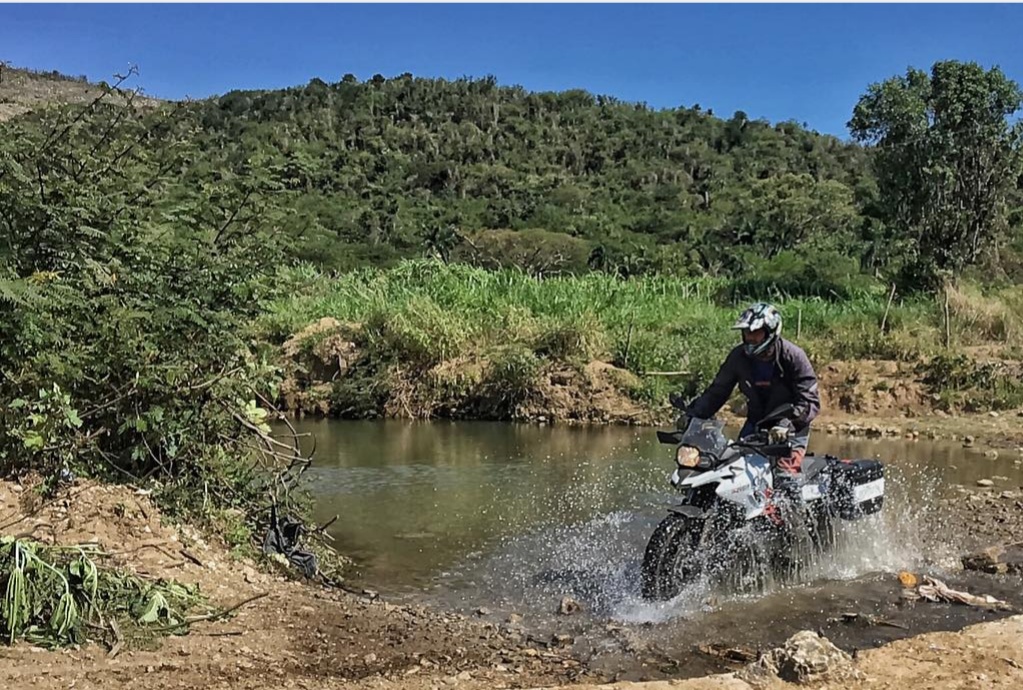 –
OPTION 2: HARLEY-DAVIDSONS
AA choice of Harley-Davidson Electra-Glide Ultra, Harley-Davidson Road King and/or Harley Davidson Softtail. These tours will be fulfilled by La Poderosa Tours (Cuba).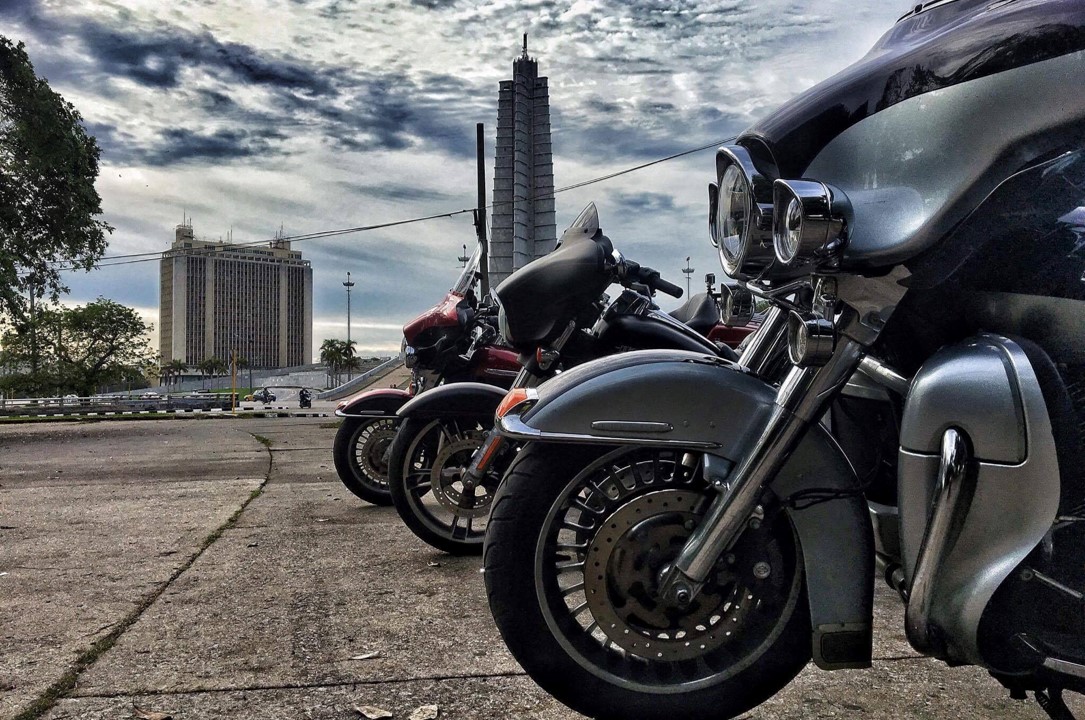 –
OPTION 3: BMW F700GS, BMW 1200GS, AND HARLEY-DAVIDSONS
BMW F700s, BMW 1200GSs, and a choice of Harley-Davidson Electra-Glide Ultra, Harley-Davidson Road King and/or Harley Davidson Softtail. These tours will be fulfilled by Edelweiss Bike Travel (Austria). NOTE: FOR 2021 THESE BIKES ARE NOT AVAILABLE!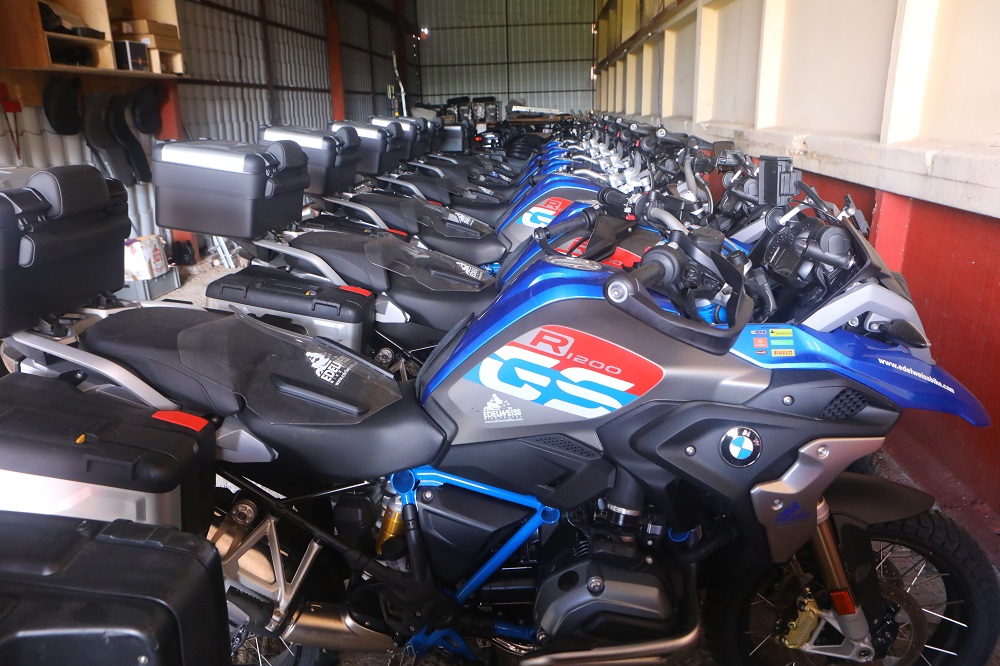 D