JOIN
NATIONAL GEOGRAPHIC
AUTHOR & TRAVEL PHOTOGRAPHER
CHRISTOPHER P. BAKER
, PLUS TWO OF SCOTLAND'S LEADING PHOTO INSTRUCTOR/GUIDES, ON THIS EXCITING PHOTO TOUR & WORKSHOP OF THE SCOTTISH HIGHLANDS, THE ISLE OF SKYE, AND THE OUTER HEBRIDEAN ISLAND OF HARRIS & LEWIS
If a picture truly paints a thousand words, the landscapes of the Scottish Highlands would fill all 4,224 pages of Harry Potter (much of which was filmed here). Blessed with quite simply the most sensational landscapes in Britain, Scotland's rugged northern Highlands lend themselves to phenomenal landscape photography… even under the darkest of brooding skies. In fact, Scotland's famously fickle weather is a bonus: Within the space of one hour, it's possible to shoot the same location under gorgeous blue skies, when roiled by bruising clouds, and gilded in shafts of golden sunlight. Plus, off the western coast is the Isle of Skye, considered among the most dramatically picturesque places in all Britain, with its breathtaking physical formations and elemental battered landscapes of epic grandeur.
Our itinerary spans the full range. Enchanting waterfalls… Huge soaring sea stacks… Surging peninsulas… Improbably white-sand beaches… Wind-ruffled lochans, and moors carpeted in thistles and heather… And hauntingly beautiful glacier-scoured mountains. Plus, this remote region is replete with wildlife.
We'll visit in late October, when the autumn colors are at their most spectacular and the lingering sunrises and sunsets offer sensational "golden hour" light!
Nor will we forgo the human component: The living culture that defines this magnificent region… from weathered fishermen and the shepherds herding their flocks with sheepdogs, to the crofters of Harris & Lewis.
I feel a special connection to the Scottish Highlands (and not simply because my sister and cousin live there), ever since first motorcycling the North Coast 500 route on assignment for Robb Report. Please join me and experience the mystical appeal of this superbly photogenic and immensely soul-satisfying part of the world. Plus, you'll get to meet my adorable sister! Oh… and my cousin, who guides at Urquhart Castle! - CHRISTOPHER P. BAKER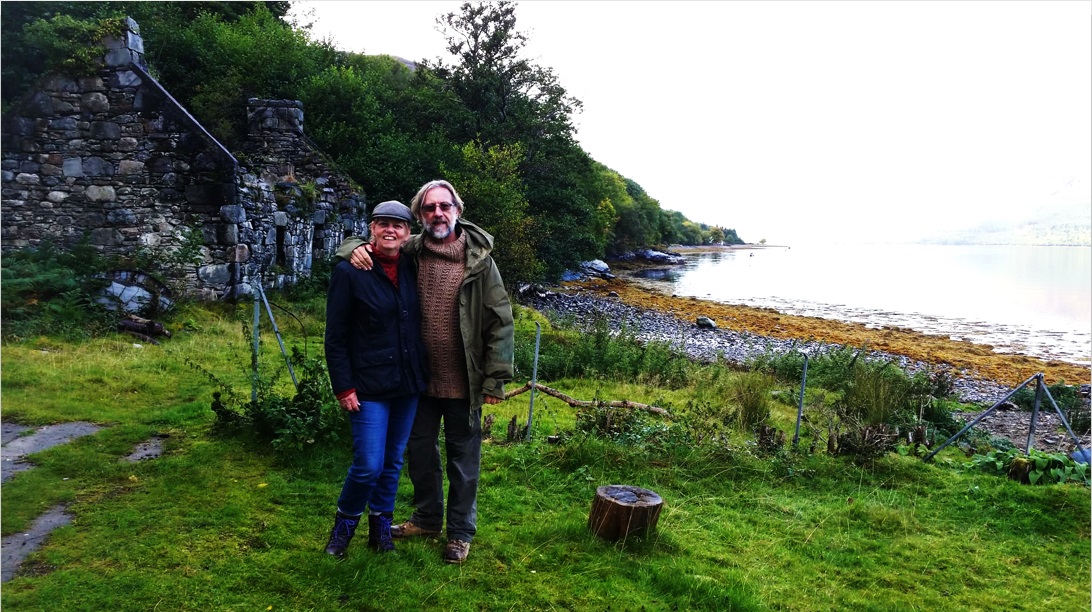 ITINERARY (subject to change, including due to rail & ferry timetables)
Day 1: Monday (October 23)
Participants arrive and settle into our hotel in Edinburgh. Meet with Christopher in the evening for orientation, then a welcome dinner.
Overnight: APEX WATERLOO PLACE (or equivalent), EDINBURGH
Day 2: Tuesday (October 24)
Depart Edinburgh this morning via exquisite Loch Lomond and Trossachs National Park with a stop at the Falls of Dochart—our first chance to practice long-exposures to capture the cascades with milky soft effect. Time permitting, we might include a stop to photograph Kilchurn Castle ruins. We continue via Glencoe, one of the most spectacular glens in Scotland and a setting for films from Harry Potter to the James Bond movie Skyfall. We'll photograph at the iconic Black Rock Cottage and at the Buachaille Etive Mor waterfall and Lagangarbh Hut, ending with sunset at The Three Sisters viewpoint before arriving in Fort William.
Overnight: CLAN McDUFF (or equivalent), FORT WILLIAM
Day 3: Wednesday (October 25)
This morning we journey via Corpach, where we'll stop to photograph Scotland's most photogenic shipwreck--the beached 'Old Boat of Caol' fishing boat--against a sublime backdrop. We then continue to the Glenfinnan Viaduct—a fantastic 21-arch curving bridge—in time to photograph the Jacobite steam train (the famous 'Hogwarts Express' of Harry Potter fame) puffing across the viaduct at approximately 11am. [NOTE: The Jacobite steam train stops operating in the late October, typically the last week; no guarantee can be made for 2023.] Arriving Mallaig midday in time for lunch, we then take the 1:30pm ferry to Armadale, on the Isle of Skye. Our first stop will be to photograph the Ornsay Lighthouse (with a magnificent mountain backdrop), before heading to nearby Eilaen Donan Castle, perhaps the most photogenic (and most photographed) castle in Britain thanks to its enviable location on an isle in Loch Duich. We'll linger as long as feasible to take advantage of changing moods during sunset and twilight. Who knows… we may even have a chance to photograph a bagpiper in kilt and traditional garb piping away from atop the castle! We then head to our hotel in Uig.
Overnight: UIG HOTEL, ISLE OF SKYE
Day 4: Thursday (October 26)
We'll start the day at one of the world's most impressive landscapes—The Quiraing, where we will shoot the first light hitting the many hills and ridges. We'll then explore the western part of the Isle of Skye, with a traditional sheepskin tannery in Waternish, plus such iconic locations as Neist Point lighthouse and the waterfalls and dramatic mountain backdrop at Fairy Pools. We'll then return to Uig via Sligachan to photograph the famous old stone bridge and sensational backdrop for sunset.
Overnight: UIG HOTEL, ISLE OF SKYE
Day 5: Friday (October 27)
For those with the stamina to make the hike, this morning starts with a dawn shoot at the world-famous Old Man of Storr. This will be a very early start, but will be more than worth the effort as dawn's light illuminates this incredible volcanic formation and adjoining pinnacles. Arriving the foot of these massive basalt spires, we'll hike for about one mile uphill to reach our favored viewpoint. Weather permitting, expect some of the most sensational images of the trip. [NOTE: Clients for whom the hike poses a physical challenge will be offered an alternative venue.] We'll return to the hotel for breakfast before exploring the Isle of Skye further, including the lovely harbor town of Portree, with its pastel-painted harborfront row-houses, and Kilt Rock waterfall—a cascade tumbling over a cliff into the sea. Time permitting, we may also visit Elgol, an end-of-the-road hamlet with awesome views across Loch Scavaid to the Cuillin Mountains... a perfect sunset venue! Alternatively, we may shoot sunset from right behind our hotel, where there are amazing views over the bay, with a picturesque church on a hill.
Overnight: UIG HOTEL, ISLE OF SKYE
Day 6: Saturday (October 28)
This morning we'll be up early for sunrise, perhaps at nearby Fairy Glen, before heading back to the hotel for breakfast. Fortunately, it's just a few minutes drive from our hotel, where we'll breakfast before check out to board our 9:40am ferry from Uig to the Outer Hebrides. Arriving Tarbert, on the Isle of Harris, we'll enjoy a private tour of the Isle of Harris Distillery... then drive the short distance via Luskentyre—arguably the most beautiful beach in Britain--and other beaches with sands the color of Valspar Perfection. We'll also photograph the medieval St. Clement's Church, at the tip of the island before heading to the Northton salt marshes for sunset (and/or nearby Small Beach, which in the right conditions is amazing for photos at dusk). If weather dictates, we have the option of photographing one or two local Harris Tweed weavers working on their looms. We'll then settle into our lovely family-run lodge overlooking the ocean.
Overnight: TRADITIONAL HUNTING LODGE, ISLE OF HARRIS & LEWIS
Day 7: Sunday (October 29)
An early start today for sunrise at the Callanish Standing Stones, one of the finest examples of Neolithic standing stones in Britain: This haunting complex dates back 5,000 years and is a mini-Stonehenge without the crowds. We'll then breakfast before we enjoy a day of shooting based on light and weather conditions, plus our local guides recommendations (perhaps the picturesque little fishing hamlet of Crosbost, or Eilean Glas Lighthouse) as we react to the ever-changing Hebridean Light. We plan on ending our day with a sunset shoot at the Mangersta sea stacks, one of the most dramatic scenic venues in Scotland.
Overnight: TRADITIONAL HUNTING LODGE, ISLE OF HARRIS & LEWIS
Day 8: Monday (October 30)
Following breakfast, we'll head to the north of Lewis and visit the well-preserved Iron Age fort of Dun Carloway Broch before photographing at Gearrannan Blackhouse village, a photogenic conclave of traditional turf-roofed Hebridean houses set above a gorgeous white-sand beach. Harris Tweed, the world's most luxurious wool fabric, is exclusively hand-woven on this island and is still made inside crofters' homes and small specialist studios. We'll make the short drive from Gearrannan to the nearby hamlet of Shawbost to photograph a crofter at work on a traditional loom. We'll end with a sunset shoot at Stack O'Phris or Butt of Lewis Lighthouse, if the conditions are suitable.
Overnight: TRADITIONAL HUNTING LODGE, ISLE OF HARRIS & LEWIS
Day 9 Tuesday (October 31)
The morning will be at leisure to enjoy our lodge and its estate at leisure before heading to the port town of Stornoway. After lunch here, we'll board our 2pm ferry to the lovely fishing village of Ullapool, overlooking Loch Broom. Arriving around sunset, we'll check into our hotel and freshen up before dinner at a nearby gourmet restaurant with Chris's sister and brother-in-law, who live nearby.
Overnight: HARBOUR HOUSE, ULLAPOOL
Day 10: Wednesday (November 01)
Our hotel overlooks Ullapool harbor, with its traditional fishing boats. This morning we hope to meet a former Scottish National Champion sheepherder to learn about, and photograph, sheepdogs working flocks of sheep. (Or we may make a scenic drive to photograph Stac Pollaidh and the views out over the Summer Isles which can be very picturesque on the right day.) This afternoon we'll head to Rhidorroch sporting estate to photograph Chris' brother-in-law Steve in traditional stalking attire with his gundog Millie, with whom he has won several Scottish Gundog Association field trial awards.
Overnight: HARBOUR HOUSE, ULLAPOOL
Days 11: Thursday (November 02)
Today we drive across the Scottish Highlands via Glen Glasgarnoch to Glen Affric—considered a pinnacle of the Caledonian fall colors and one of Scotland's most iconic settings from the Glen Affric Viewpoint. We'll then continue the short distance to Drumnadrochit and Urquhart Castle, on the banks of Loch Ness. Chris' cousin Mark–a professional guide at Urquhart Castle–will give us a personal, privileged tour. We'll linger around Loch Ness this afternoon to photograph Nessie at sunset!
Overnight: DRUMNADROCHIT HOTEL, DRUMNADROCHIT
Day 12: Friday (November 03)
Today we head back to Edinburgh. If our hoped-for shepherd shoot on November 01 doesn't materialize, we'll journey via Inverness to Leanach Farm for a sheepdog herding experience and portraiture with Ian Mackay. Otherwise, we will follow the shore of Loch Ness to idyllic Fort Augustus, with its uber-photogenic locks. We then continue to Edinburgh, with time to relax or explore this historic city before a slide show of everyone's favorite images followed by our farewell dinner.
Overnight: APEX WATERLOO PLACE, EDINBURGH
Day 13: Saturday (November 04)
Depart for home.
October 23-November 4, 2023


Trip cost: $7,675
Limit: 10 participants SOLD OUT!
October 19-31, 2024


Trip cost: $8,175
All participants are required to show proof of being fully vaccinated against Covid.
Highlights
Photograph stunning landscapes and seascapes, as well as Scottish farmers, fishers, and crofters.
Find a perfect spot to photograph the Jacobite Stream Train (aka Hogwart's Express) thundering across the famous Glenfinnan Viaduct.
Explore the little-visited Outer Hebridean isle of Harris & Lewis to photograph the Callenish Stones, thatched crofter's village, and even a traditional Harris Tweed workshop.
Be accompanied throughout by two of Scotland's leading photographers and photo instructors
Tour Leader
You'll get to photograph with acclaimed National Geographic photographer, author, and expedition leader Christopher P. Baker, the Lowell Thomas Award 2008 'Travel Journalist of the Year.' Christopher's images and self-illustrated articles about Scotland and other destinations worldwide have appeared in hundreds of magazines, from BBC, CNN and Newsweek to National Geographic, National Wildlife and Penthouse; as well as scores of calendars, brochures, coffee-table books and travel guidebooks. His work for National Geographic, not least, includes photographing the National Geographic Traveler Colombia and National Geographic Traveler Costa Rica guidebooks on assignment. Chris' profession as a full-time travel journalist informs his work, which is also represented by Getty Images. His rich archive of images and travel experiences spans the world, from India, Sudan and Nepal to Morocco, Micronesia and the Marquesas Islands. Plus, Chris has led more than 100 tours and expeditions worldwide, including photo tours and workshops for Jim Cline Photo Tours, Lumaria Workshops, National Geographic Expeditions, Santa Fe Photo Workshops, and UnCruise Adventures, as well as his own deluxe stately homes and gardens tours to Britain.
Testimonials
Your Scottish photo instructors & driver/guides
For our 2023 departure, we'll be accompanied throughout by two of Scotland's most highly rated photographer/instructor/guides. Winner of the UK's foremost 'Photographer of the Year' award, our lead guide is recognized as one of the UK's top landscape photographers, and a regular contributor to leading photography and travel magazines. He works in partnership with three of Scotland's other top-ranked photographers. All live in Scotland and know the best photo locations throughout the highlands and islands, as well as the best times of day to shoot them. We'll also use two of his company's customized 8-passenger vehicles, with five guests per vehicle and plenty of room for our gear.