No doubt about it. No Time to Die is the best, and certainly most ambitious, James Bond movie ever.
From the film's thrilling, on-the-edge-of-your-seat opening sequence in the southern Italian hilltop town of Matera, to the tearful farewell-to-Daniel-Craig finale atop the remote island lair of demented villain Lyutsifer Safin (played by Rami Malek), the unexpectedly emotional 25th Bond movie–part muscular action picture, part sentimental melodrama–packs all the dramatic death-defying spectacle and debonair style we lustfully admire in a classic Bond film.
It also profiles a surprisingly tender, and much more nuanced and deeper, side to our famously licensed-to-kill secret agent.
This is politically correct Bond, modernized for a post-MeToo, DEAI-mindful world, yet without having diluted the other quintessential qualities that define the erstwhile womanizing 007 persona.
There's no bedding the femme fatale (in fact, there isn't one). No seduction, period, although one half expects that he and Nomi—his cool and calculating, black, female "007" replacement (played by Lashana Lynch, who starred in Captain Marvel)—will inevitably end up making love. Especially so when at their first meeting, in Port Antonio, Jamaica (appropriately, Lynch is of Jamaican descent), she heads straight to his bedroom, accompanied by a suggestive come-hither line. Yet clothes-wise (and emotionally) she's buttoned up from top to, er, bottom throughout the movie. No bathing suits. No cleavage… not even her legs. Nomi literally wears the pants in this movie.
Meanwhile, Miss Moneypenny, M's traditionally conservative (yet now progressive) and saucy secretary with a soft spot for "James," is played again by black actress Naomie Harris, who played the witch Tia Dalma in Pirates of the Caribbean, and Winnie Mandela in Mandela: Long Walk to Freedom.
The female characters in No Time to Die  are far more "fully-realized" characters than in any prior Bond movie, not hyper-sexualized stereotypes in danger and waiting to be rescued and/or seduced. Says No Time to Die scriptwriter Phoebe Waller-Bridge: "[The franchise] has just got to grow. It has just got to evolve, and the important thing is that the film treats the women properly. [James] doesn't have to. He needs to be true to his character."
That means a Bond who's as hard as nails!
But this time we also see the soft, mushy side of Craig's rugged, bruiser iteration of 007. In love and committed, till death do us part. He's even presented (quite literally) as a father figure. Yes, he's now formally a dad! And, surely purposefully, his heartthrob is a homely lass badly in need of orthodontics—the mysterious French psychologist Madeleine Swann (played by French actress Léa Seadoux), Bond's love interest in the last 007 movie, Spectre (2015).
It's hard to imagine a Bond movie that causes the audience to shed a tear. But there we were, the entire theater attempting to stifle our sentimental blubbering well before the deeply romantic, almost operatically tragic, movie's fateful "OH, NO!" finale.
And what a tear-jerker ending as Bond stands proudly against the setting sun, stoically facing his imminent demise (after just learning that he's the father of Madeleine's daughter) while Hans Zimmer's score builds to an impactful crescendo.
Daniel Craig has sworn blind that this is his last Bond movie. I suspect he had a hand in ensuring that the plot would preclude any alternative. No possibility of repeating Sean Connery's geriatric return in Never Say Never (1983) after supposedly retiring his role as Bond following Diamonds are Forever (1971).
To my delight, a major early sequence is set in Santiago de Cuba, where Bond gatecrashes a SPECTRE party. The action-packed scene, full of sly humor and fabulous stunts, is a stand-out in the movie, and easily my favorite part of the film.
Lured out of retirement in Jamaica by the CIA's Felix Lietner, Bond heads to Cuba to retrieve traitorous MI6 scientist Valdo Obruchev, who is now working for SPECTRE, though it turns out to have been a clever double-cross set-up to infect Bond with the Heracles bioweapon. (Fortunately, the Cuban government is not presented as playing any part in SPECTRE's evil doings, although the choice of location surely in intended to imply guilt by association.)
We see Bond flying in past Santiago de Cuba's actual Morro Castle in a seaplane. Thereafter, those of us who know Santiago de Cuba well in person can giggle at the set (filmed in Pinewood Studios), which is pure Havana: the cities are as dissimilar in real life, yet as instantly recognizable, as Miami and New Orleans. Even the taxis and Cuban police cars and uniforms are true to real life. So, too, the classic American cars. So kudos for that.
Only a Bond movie could conceive of our suave hero immediately changing into a tux in Cuba (shades of the opening scene in Goldfinger?) for SPECTRE's rocking black-tie party, complete with salsa cabaret showgirls hot enough to cook the pork.
Here, stealing the movie is bubbly yet literally kick-ass (and stunning and sultry) CIA side-kick, Paloma. Suitably, she's played to perfection by Cuban-born actress Ana de Armas, who trained at acting school in Havana before moving to Spain at age 18 and then breaking big in Hollywood following her move to Los Angeles in 2014. (Belying the Cuban-American stereotype of anti-Castroism, and much to her credit, she played the wife of one of the 'Cuban Five' intelligence agents in Netflix's spy thriller Wasp Network, shot on location in Cuba; see my blog post review of Wasp Network.)
Paloma is a superb addition as a "Bond girl" in her stunning plunging décolletage and slit-thigh, ballgown and sky-high heels perfect for high-kicking action. With feigned naivete and innocent flirtatiousness, she tells Bond that she's had only three weeks of training. But she soon shows her proficiency in hand-to-hand combat and gun-skills alongside Bond in the chaotic fight against SPECTRE henchmen as she and Bond try to escape with Obruchev, while also outwitting Nomi (MI6's agent 007), who's been sent to Cuba with the same objective.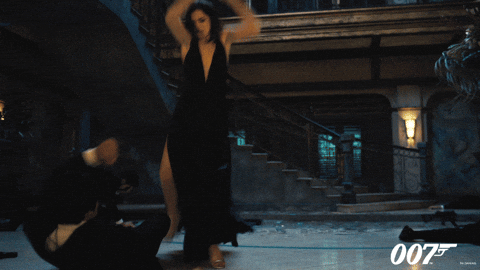 Bond is so impressed by the charming and utterly lethal Paloma, that he says that he hopes to see her again someday on a mission… suggesting that we haven't seen the last of this arresting and innocently charming Latin bombshell actress, whose character development of Paloma is simply superb. (Even–no, especially–her perfect command of English grammar and diction impresses.)
That said, Craig's Bond is no more. And because Nomi, mid-way through the movie, graciously asks M to transfer her "007" status back to Bond, it's anyone's guess who the next Bond may be.
Regardless, No Time to Die is a perfect 007 portrayal for 53-year-old Daniel Craig's send off as the legendary British spy, bringing the arc of Craig's character to a satisfying, conclusive close.
I can't wait to see it again. it's that good!
1 269